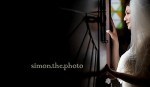 I really can't remember when is my last time that I can blog a wedding within 1 week after it. I am still having a huge backlog (I guess , over 60 weddings and preweddings) that I haven't written up here because of my busy schedule in last few months.
However, I couldn't wait to write up the wedding on last sat – vickie and joseph.
if you are a long time reader of this blog, you may already know vickie is my assistant during the period of 07-08. Since I knew her wedding day, I was so looking forward to this date.
vickie, you 're super gorgeous on the day !!!! Here is a sneak preview of the day.
ceremony: st. teresa church
reception: mandarin oriental Hong Kong
makeup artist: polly of faces hk
one of the fav bridal portrait at st. teresa church
[……]
Continue reading … … wedding of my dear assistant