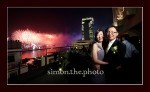 I believe I am a lucky wedding photographer – always have very nice client, friendly wedding parties and families, beautiful and gorgeous brides at beautiful locations
As you know, in Hong Kong, we have two big fireworks show over the Victoria harbour every year (one is on the 2nd day of Chinese new year, the other is on the 1st of Oct National Day).
In 2009, we had three fireworks show because of the 2009 Asian games opening on Dec 6th.
nothing 's luckier than the year of 2009, I had outdoor weddings in two of the fireworks shows and was able to watch the show very close at a very comfortable location. Jennifer and Fan 's wedding 's one of the two. The couple came from Shanghai to have their wedding in Hong Kong, with only their best friends and close families 're invited.
ceremony: Bethanie Chapel reception: sevva, [……]
Continue reading … … wedding of jennifer and fan – nice couple from Shanghai