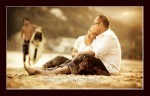 Let's talk about oversea pre-wedding photos today.
I didn't do too many oversea photo sessions in last two years. There are several reasons behind.
First, looking at my working schedule and my family life, it is almost impossible to be away from home town for anything over 3-4 days. In addition, I hate flying home and then having to shoot a wedding the day after. there are so many accidents that can happen and I really don't like taking the risk of it.
Then, I can't work out the justification of the time and effort needed for oversea assignment. When I stay in Hong Kong, I can shoot 3-4 weddings/pre-weddings a week, and I can still work on post-processing and albums and meet clients for the rest of the time (not to mention, have the time to play with shulin as well), so why spend the extra time on travelling [……]
Continue reading … … nice couple from shanghai
– clara and kevin