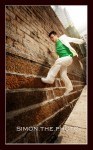 date: oct 27, 2008 location: home, central, shek O, peak (night shot) makeup artist: Gracy of JustGracy
this is an very interesting session, why?
if you had followed my blog for a long time, you may know I am a bride (or woman) photographer, over 70% of my photos on a wedding day are focused on the bride, and I never put a groom "solo photo" as the 1st photo on my blog.
Here is the exception, Roger 's such a cool guy that he gave me a lot of inspiration (and flexibility) in their e-session.
When we walked around in Central, we started to discussed what sports roger plays. "football and basketball," answered Roger. When I saw this wall, I suddenly had a strange idea in my mind and I asked, "can you walk and run like Spiderman on this wall ?" That's how I got this stunning photo [……]
Continue reading … … e-session of vivian and roger