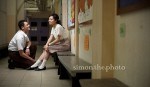 lovin it !!!
shooting in school is getting more and more popular in recent months' pre-wedding sessions. I have already been to different schools 4-5 times just in last two months.
But I never have a couple dressed in their school uniform. Kimmie and Leo are the first this time.
I never suggest wearing school uniform to my clients before, as I think it is not suitable for every client and the photos can look cheesy sometimes. I have seen lots of "school uniform pre-wedding photos" on internet that look awful, with wrong setup, wrong makeup, wrong pose … ….
So when I started the photo session of kimmie and leo, I have a little bit of worry, but that feeling was gone once I pressed the shutter. Why? look at the photos below, they just look like real students, and look so cute !!!!!! A big thumb up to [……]
Continue reading … … back to school kimmie and leo