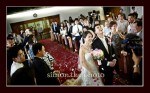 what an amazing love story !!!
it 's not easy that jodie and alvin could be together today.
It 's a long story … … one day when jodie flipped through some old books, she found a letter. it was a letter that alvin wrote to her over 10 years years ago. At that time, jodie didn't notice alvin at all and had no interest developing any relationship with him.
out of curiosity after she saw this letter again, she searched alvin 's name on ICQ (still remember ICQ ??). Guess what ?? Alvin 's ICQ account popped up at the top of the search. Despite the fact that alvin was already working aboard, they started to communicate through ICQ for two years and that 's how they started their relationship.
it is a miracle and god 's work that they exchanged the vows, the rings in the church today. [......]
Continue reading … … amazing !!! what an amazing love story .. wedding of jodie and alvin