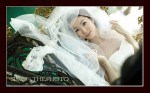 Though fiona loves the location of Student Hall of HKU so much, neither ben nor she studied in HKU before. you can imagine it is very difficult for them to go inside to take wedding photo However, with her strong determination and lots of preparation works, we finally get a permission to go inside.
location: HKU and the U-hall, Stanley Market, Central makeup artist: Man Chan of Miracle (her recent interview by esdlife)
the winding stair that she loves a lot
BTW, Canly helped me to take some behind the scene videos on the day, I have put them onto my facebook fans page, Don't forget to become my fans if you haven't joined yet.
[……]
Continue reading … … e-session of fiona and ben