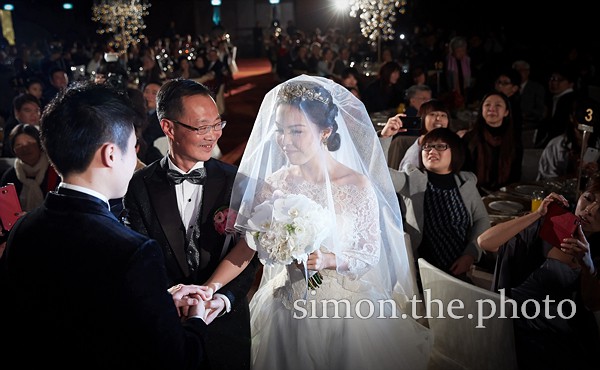 circle of love … … vanessa.ricky
May 7, 2015
A very relaxing wedding at Ritz Carlton …… debbie.newton
May 29, 2015
(guest post from Zita and Nicholas)
Like many other engaged couples, we had been seeking for the right photographer for our pre-wedding photos. We simply wanted to look for a photographer who can shoot timeless picture, so we won't be laughing at ourselves when we grow old. It turned out to be more challenging than we thought because there are tons of choices in the market. Every photographer has their strengths, yet Simon stands out from them and captured our attention. His photos exactly translate what we are looking for—timeless moment that we would treasure. Without much hesitation, we contacted Simon and reserved our spot.
He was very helpful in giving us ideas of what he is capable of before our shooting day. That eased us from the anxiety of not knowing what to do and what location to pick for our photo shoot. We cannot appreciate his help enough.
The weather was perfect on our photo shooting day and the shooting went extremely smooth. We had a couple of shoots indoor and others at various locations across Hong Kong. Simon is professional and demands perfection in every single photo. We are impressed with his attention to the finest details, guiding us through our every pose - from head to toes - all to ensure that every photo is perfect. This is especially helpful for us since we had no idea of how to pose prior to this photo shoot. Simon would take that extra step just to get that perfect angle for the most artistic shot, may it be lying flat on his back in the middle of the road or climbing up and down the ledge of a walkway. His passion and dedication to his job convinced us that we are in safe hands.
We had four sets of outfits on the day, each with different style to reflect different sides of our relationship. Whether it's warm and intimate, bright and happy or elegant and graceful, Simon successfully captured the different moods that we were trying to express. It was a long and tiring day, but also a beautiful and fulfilling day that we will remember for a long time to come.
As for the end products, we have never doubted Simon's ability, and sure enough he delivered. The quality of the photos are exceptional, as you can see for yourself. To us, Simon's ability to utilize light sources is unrivaled. The style of his photos is so elegant and natural, as he captured our emotions and our intimate relationship in the artwork he produced.
Finally, we would really like to thank Simon and his assistant Pang for their commitment and hard work, it has been a great experience for us, one that we will treasure for life.