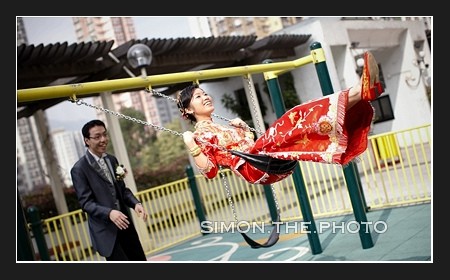 when the princess marry the prince– wedding of szewan and wingkei
May 13, 2008
wedding of dmwedding
May 16, 2008
when anne and thomas decided to marry and gave the good news to their parents, Anne 's parents booked the St. Margaret Church for their wedding within 3 hours!! Guess what … .. they 're married there 31 years ago !!!!!
date: 21 dec, 2007
ceremony: St. Margaret 's Church
reception: mandarin oriental Hong Kong
after the church ceremony, we had a fun time for photo session in Central

getting ready … … anne and her mother behind

When I said that the mirror 's too dirty for any photo, Anne's father helped me to clean it immediately. What a good father !!!!!!

the mirror was perfectly clean now !!!

anne and her mother help her wearing the necklace

anne and the wedding party

a happy smile from anne. What was Mr. Poon thinking at that time? His wedding 31 years ago …. …

look at thomas !!!!

the ceremony at St. Margaret 's Church

every bride should be as happy as anne on the wedding day

family time

the newly wed — Mr. and Mrs Ng

a 5 min photo session after the ceremony

the table gift

kiss kiss kissssssss

the first dance

anne and her best friends

let's dance everyone