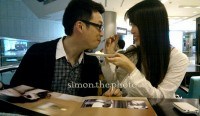 Since I first met fiona and danny March last year, I was looking forward to their pre-wedding session for a long long time. They 're such a sweet couple that every wedding photographer would love to take photo of them.
Don't believe in me, you can see the photo below. this is a photo I got at our first meeting, hahaha, I am still keeping it in my mobile. I didn't open my studio yet at that time, and we were still meeting in a cafe inside IFC.
Have you ever got any client like this in your meeting??? I think I am lucky to have sweet couple like this as my client.
[......]
Continue reading … … nothing sweeter than fiona and danny