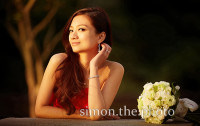 the day we had the prewedding session of Susanna and Tony was one of the coldest day this year. It was not too bad during the day time as we had very beautiful sunlight that kept us a little bit warmer. However, once the sun was set, it was so freezing, especially we 're taking photos along the seaside at stanley market. I can still remember, after taking every single photo, Susanna needed to use several "warming bags" (暖包) to keep her from shaking. Thanks Susanna 's determination for good photos and the final photos are stunning !!!!
the day time with sunlight
the freezing night time. Susanna had brought her a fur to keep her warm, but never thought to use it in photos. However, I asked her to wear it for photos and , surprisingly, it looked very good and elegant.
[......]
Continue reading … … susanna.tony