Since I first met fiona and danny March last year, I was looking forward to their pre-wedding session for a long long time. They 're such a sweet couple that every wedding photographer would love to take photo of them.
Don't believe in me, you can see the photo below. this is a photo I got at our first meeting, hahaha, I am still keeping it in my mobile. I didn't open my studio yet at that time, and we were still meeting in a cafe inside IFC.
Have you ever got any client like this in your meeting??? I think I am lucky to have sweet couple like this as my client.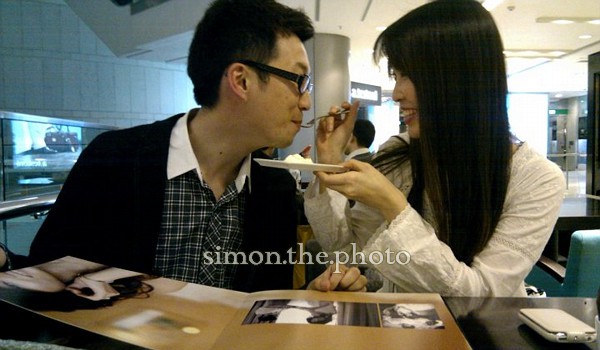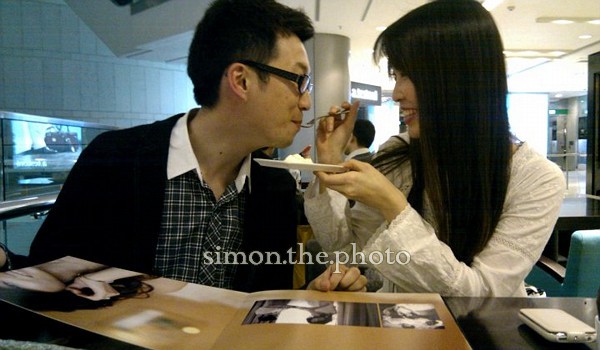 location: HKU, Shek O, Stanley military cemetery, Stanley market, Central
makeup artist: phoebe lam
the photo session was perfect !!! We got plenty of sunlight the whole day and this is my first time to had photo taken at both Shek O and stanley military cemetery in one single day.
1st location: HKU
one of my fav of the day — there was a very strong sunlight coming from the window. the difficulty of this photo is that I need to position fiona under the sunlight very very precisely so that we can see her face and figure as well as the details of the veil under the sunlight. Of course, this photo could never work without fiona 's beautiful face, do you agree?

time for a coffee

2nd location: Shek O.
I usually don't go to the Beach  earlier than 3:00pm because the sunlight is too harsh for photo. However, as we needed to go the stanley military cemetery later, we didn't have a choice. It was quite challenging for photo unde this light condition!!!
we got two little friends on the beach

It was really a miracle being able to take a shot like this at the beach in the early afternoon !!!!!

3rd location: stanley military cemetery

last location: Central and stanley market
here came the two little friend again