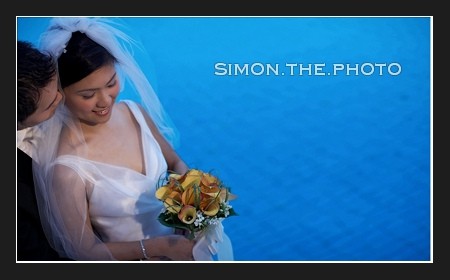 wedding of christine and sam
May 22, 2008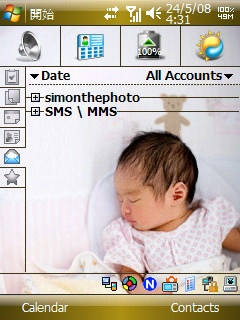 my new HTC phone theme
May 24, 2008
When I have meetings with my clients, a lot of the brides tell me their fiance doesn't smile, doesn't like wedding photo … ….
Peter is an exception. He enjoyed the wedding so much, and he could sing a song, read a Chinese love poem to Anissa anytime, anyplace. His expectation of wedding photos was very high as well, they 're the first couple to prepare a 16-page powerpoint presentation for me, with a list of photos that they like. I can still remember, on the wedding day, I brought the presentation with me and reminded me the shots.
thanks anissa and peter for inviting me as your wedding photographer.
date: 29 dec, 2007
ceremony: Yan Fook Church
reception: Eaton Hotel
my fav photo of the day – at anissa parent 's apartment
– an ordinary location with extraordinary sunlight

get ready in Eaton Hotel — Anissa and her best friends Holy (the maid of honor)

the wedding gown has very pretty details

what a beautiful bride

We 're leaving for Anissa 's family, when the door of the elevator opened, I found there was very beautiful light from outside and captured this moment

so pretty

when Peter met Anissa

details of the Chinese dress

the train of the dress was stunning !!!

Did I mention that Peter loves singing a lot — he was singing to Anissa. I remembered it was a song from Jacky Cheung

changed into wedding gown

before the ceremony, we had 45 min free time and we had a photo session on the Kadoorie Road

ceremony. Peter was singing to welcome the arrival of the bride

Yan Fook Church at Cheung Shan Wan

kissing the bride. I love the way Peter kissing — a very very gentle kiss

Let 's welcome Mr. and Mrs. Wong

the church 's full of their friends and families

another pair of bride and groom?

the childhood slideshow. Love the expression of the grand parents

waiting for the march in

another fav of the day — the long staircase is very unique for ballroom of Eaton Hotel, I took the risk to take the photo at their back and tried to include as many guests as possible. You can click on the photo to see my thinking process

Peter was making Anissa cry again

This table was their special friends from the "hong kong outstanding students' association". They prepared an album for anissa and peter, with photos from them

the peter 's way of kissing anissa

the farewell time