wedding of michelle and tony
October 17, 2009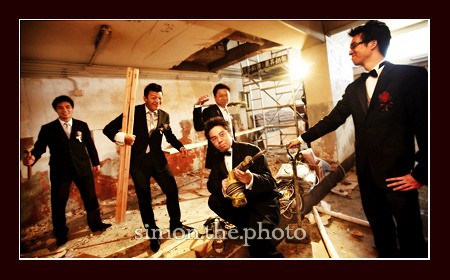 It is so hotwedding of purdy and hok pui
November 5, 2009
I was always asked by client what kind of wedding I like the most.
big big wedding ?? six – stars hotel ?? oversea wedding ?? magnificent decoration??
after shooting hundreds of weddings in the last four years, I 'd say these are not important to me any more. Instead,  I just love to see my clients love my works, love my style of wedding photography. Nothing happier than seeing your clients loving you, right?
emmy and keith are definitely one of my favorite couple. Since the 1st meeting with emmy, I already know they are  super fans of simon.the.photo, I am so looking forward to their photo session and can't wait to share their photos on this blog.
So, how super fans they are ?? May be emmy can share it here … … I am too shy to say about it … ..
locations: 保良局李兆忠百周年中學 ,central
mua: rainbow (tel: 92586602)
thanks for getting me to your secondary school
at where they met and fell in love !!!

this is emmy

this is keith

a colorful corner inside the school

naughty students … …

examination time ??

hey kids, it 's very late, time to go home !!!!

2nd stop: the little fast food shop that grew up with them
『大興賓墟快食店』 – 凍奶茶,小甜

the real boss 're too shy to be in front of the camera, so we got emmy 's friend (Leo) to be a temp staff. He is good, isn't he?

last stop: central

with such a happy couple, we can easily take good photos anywhere on the street

night shot at central.
Thanks for everyone for help me to get this shot. We need two persons to keep holding and waiving the veil, then another one to hold the light up above. This was difficult to make everything works at the same time(emmy 's expression and pose, the veil, the light – canly was the human light stand holding the light). After a few shots, I still couldn't get a good shot, and I was going to give up. Thanks everyone for asking to keep trying and finally we get this great shot.

love this shot. beautiful and seeing the details of the dress

thanks thanks.

btw, don't miss to see the "making of" video (prepared by leo)
LOTS OF FUNNNNNNNN!!!!
[HTML6]