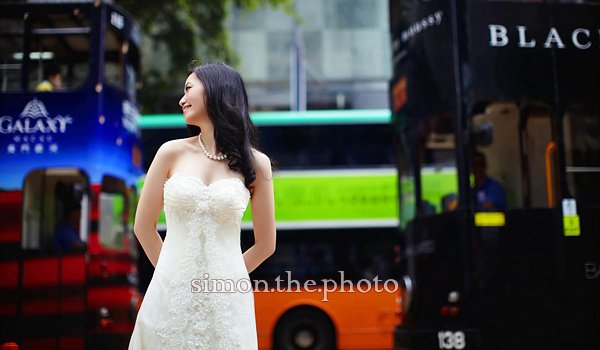 brenda and holger
July 20, 2011
the weather was not very stable recently, a lot of clients asked me the same question: "if the weather is not good, is there any indoor location that is good for photo shooting?" Honestly, other than shooting inside studio or hotel, I really have no idea of any public indoor location that is good for shooting under rain. Let me know if you know any of this place.
Even though I had shoot under very bad weather conditions before, but I really prefer to shoot under sunshine as there is too much pressure on the couple and it is difficult to protect the equipments when shooting under rain.
Cindy and Bennalt asked me the same question a few days before their prewedding session because the weather forecast was really bad. It turned out that it rained the whole day, and luckily, they made the decision to book a room inside the 1881 heritage and we could continue the shooting in the afternoon and at night.
makeup artist: Man Chan
locations: maryknoll convent school, 1881 heritage
1881 heritage is a very nice location, but it is also difficult to shoot over 6-7 hours just inside a hotel room. that 's the case for cindy and bennalt. After checking in at 2:00pm, we spent the rest of the day there as it rained so bad outside that we couldn't go out at all.  It became a challenge for me to spend such a long hours at the same location, but sometimes, this kind of limitation would inspire new ideas. Without new location, new background, it forced to you look at something different at the bride. I noticed that cindy got  beautiful and healthy hair, then, the question was how to feature and highlight her hair in a photo. thanks cindy 's help and worked with me to get this photo, love it very much. My fav of the day

our first location: maryknoll. another fav of the day. so romantic, isn't it?

just a plain wall, but their beautiful smiles helps a lot to create this beautiful picture

bad weather, no problem. I got a sun in my pocket (the tiny flash) that can create a sunset look anywhere and anytime.

when I took this shot, it rained very bad. thanks Man Chan, Ka Mui and shirley 's help for holding three umbrella together to get this shot. Thank you !!!

start shooting at 1881

nice room, isn't it ? Tried a new lighting setup in this photo, you 'll see this kind of photo more and more in the future.

all the following photos are taken at the night time. thanks for the sun in my pocket again.

this dress is stunning !!!!!