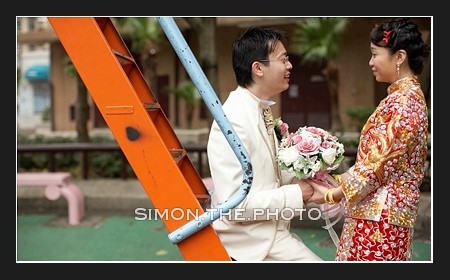 a touching wedding – eunice and dickson
April 29, 2008
my long vacation — becoming a father
May 3, 2008
This was a very exciting photo session — vivian and km brought me to some of the places that I never been to before, so you 're going to see some pre-wedding photos very different from what I 've shown you before.
hand in hand, walked in the countryside under the warm sunlight … … what a beautiful day. sometime they whispered, sometime they played and laughed. Really enjoy following two lovers walking around.
Date: Dec 13, 07
yes, as there is a new place, let's have a quiz and guess where the locations are — if you know the answer, please leave your guess in the comment section
When we arrived there, I found it quite difficult for photos at first. It 's in the middle of the day, we had direct sunlight overhead, not many area in shade. Need to adapt a little to change the way I shoot

in the forest … …

my fav photo of the day — the color, the tree, the bridge, the sunlight behind and the dancing vivian — all worked together in this photo

what a view !!!!!

with such a beautiful view in front, guess what they are talking

It 's a joy for me to be their photographer

and lots of fun as well

km 's so great that he always made vivian smile throughout the day

Though I had another version of the this photo in which we only see vivian alone with the flying veil, I like this version better — the inclusion of km made the photo more interesting !!!!

another indoor location

third location — my fav place

I really enjoyed looking at them at this moment. a simple but timeless photo

vivian, let's put some sand onto km

another amazing couple — ready for anything in front of the camera

at the tram station in Central

another fav place for me

I used a 500 mm reflective lens for this pic. It 's so difficult to use — it doesn't have auto focus, the viewfinder 's so dark and I was so far away from them. vivian and km, thanks for helping me to work out this photo.