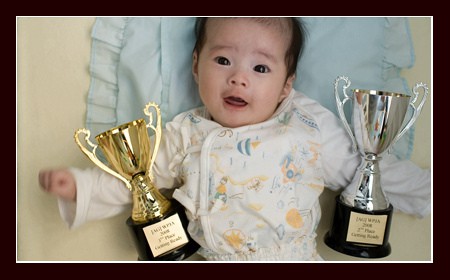 AGWPJA award Trophies arrived today
September 12, 2008
wedding of fiona and christopher
September 30, 2008
Sept is the busiest month of 2008, more than 20 weddings and e-sessions to shoot, hope that I can update my blog as frequent as possible.
I didn't meet julie until around 1 week before the wedding day as she worked in UK most of the time. So happy to be their wedding photographer, they 're such a friendly couple that I felt I am part of the wedding.
date: 5th sept 2008
ceremony: 三育書院,景輝堂
reception: the peninsula hotel Hong Kong
julie — getting ready — preparing for the ceremony

rob and the groomsmen in the morning

preparing for the game

julie meets rob

we took a few photos at the roof after the tea ceremony (it 's raining at that time)

love this shot

everyone 's so busy at that moment

like the dreamy feel of this photo

another fav

arrived at the church

ceremony at the 景輝堂

the ceremony

I am yours !!

congratulations !!!!

catch it !!!

cake cutting

waiting for the "march in"

nice music from Blues, Rock n Roll, Jazz

They prepared a childhood slideshow themselves

the first dance

rob and his father … …

thanks for inviting me as your wedding photographer