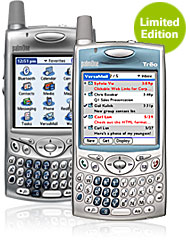 I have been using my Sony TH55 PDA more than two years. I loved this PDA very much as it features a very large screen 320 x 480 and it 's one of the biggest screen a PDA had two years ago. I have been thinking of using a PDA phone long time a ago, but the price is too high for me (usually over HK$4000)
Recently, the price of Treo 650 (from Palm) has gone down to just over HK$3,000 and I finally get one last week.
After just one week's use, I love this PDA phone so much, the PDA and phone function are very well integrated and it is so easy sending SMS using the build-in keyboard.