Just added a RSS feed of the Wedpix Magazine into my blog.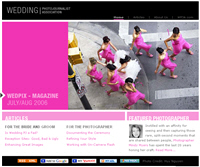 Wedpix is an on line Magazine of Wedding Photography published by WPJA and it is all about wedding photojournalism.
The content is very useful and much much better than those "bullshits" in the local wedding magazine , don't miss it if you like the style of wedding photojournalism and 'd like to understand more.
The recent article "Is Wedding Photojournalism a Fad?" is very interesting. It talks about the difference between trendy wedding photos & "real" wedding photojournalism.
Click here to go to my RSS feed of Wedpix magazine