When I meet my clients, I always ask what kind and style of wedding pictures do they like most. "Natural" & "Ability of capturing the happy moments" are the most commonly heard answers. I believe these two elements are the most basic requirements for today's contemporary wedding photography. But what makes a wedding pictures excellent, not just basic/ordinary?
WPJA holds wedding pictures contest once every three months and they invited some the most prestigious photographers to be the contest judges. I received a email from WPJA a few days ago, one of the judges (Dan Habib) explained how he views the contest pictures and how an excellent wedding picture set apart from the others. Dan Habib has been the photography editor of the Concord Monitor since 1995, where he was a staff photographer from 1988-1992.
click the thumbnail for enlarged version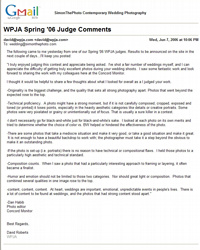 I agree that "Originality" is the biggest challenge. Every wedding is unique and so is the picture. This is the responsibility of the wedding photographer to find out somethings unique in the wedding. In order to have this "originality", a wedding photographer needs to keep alert whole day, and focuses on everything happening around the wedding couple. This is not an easy task, I am still learning. People sometimes don't understand that, after a day's work, not only a wedding photographer feels so tired on the body, but also on the eyes and mind as well.