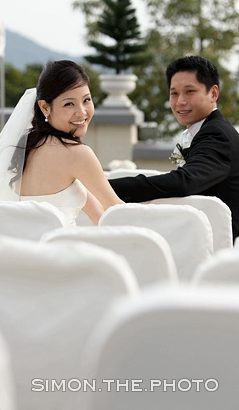 wedding of minako and sam
April 20, 2008
last photo session before my long holiday– esther and black
April 28, 2008
Hi, I keep the promise to upload the "post wedding" photos of minako and sam today. Before the wedding, we planned to have an e-session, but it turned out that both mina and sam 's schedule 're too tight that we couldn't make it finally. Instead, just 4 days after their wedding, we had a "post wedding" session.
Can you feel the happiness of the newly wed?
date: 28 nov 2008
make up: polly of faces hk
my fav of the day – it 's in the middle of the day, so we had a very harsh overhead sunlight. I asked mina to wave the veil and the sunlight made it very beautiful

mina dancing

at the peak tram

another fav of the day

kissing the bride

reflection from the peak tram

wow !!!

Hi sam, you 're amazing !!!

the happy mina

the happy newly wed

we had wonderful weather at Shek O

amazing sunset !!!!

It 's not easy to take this photo,

was it? (behind the scene by Siu B )

Hi sam, let's go into the water

get wet, get wet !!!!

the runaway bride … …..