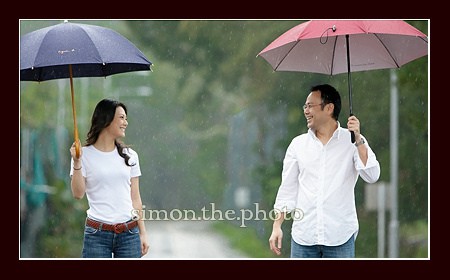 how do you get to know simon – michelle and tony
July 22, 2009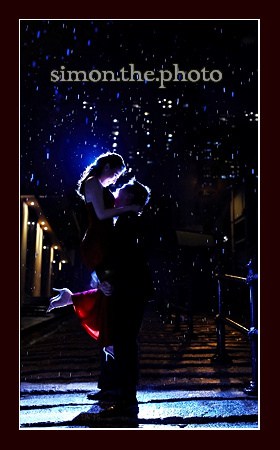 it 's raining again e-session of connie and ah nam
August 7, 2009
there is a story behind the following two photos that I 'd like to share – a story about my photography approach.
It was the wedding of winnie and marcus, around 6:00pm, everyone was taking a rest to prepare for the cocktail. Not many guest at the cocktail area, so I took the time to take some shots of the decoration. After taking a few shots of the (blank) backdrop, I 'd like to add some elements to it to make it more "alive". So I set up the camera on tripod and WAIT for something to happen in front of the backdrop. In fact, I was anticipating children running around (it is not uncommon, is it?). After 1-2 min, a waiter walked across and I got the 1st shot below. I love it, better than a blank backdrop and it looked more interesting. After a few min., nothing interesting happened, my assistant Canly asked me " What are you waiting for?" , " waiting for something unexpected" I answered. the very second I said this, to my surprise, winnie finished changing wedding dress and walked across the backdrop — Wow, that 's how I managed to get second shot below.
So, do you think it is by anticipation or by luck to get this photo ??
venue: Grand Hyatt Hotel, Hong Kong
video: ken of simon.the.photo
happy bridesmaids

marcus !!!

awesome team !!!

winnie and parents waiting inside for marcus

the tea ceremony

getting ready:  another fav shot of the day

ceremony at Grand Hyatt Hotel.

marcus, you may kiss the bride now

another nice backdrop

a bird eye 's view

watching the same day video edit (prepared by ken)

first dance

what a beautiful dance !!!

let's dance !!!