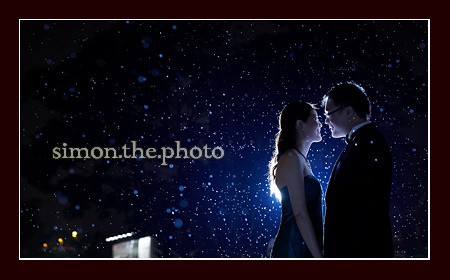 how to take good photo in rain – sneak peek of gloria and vico 's e-session
June 22, 2009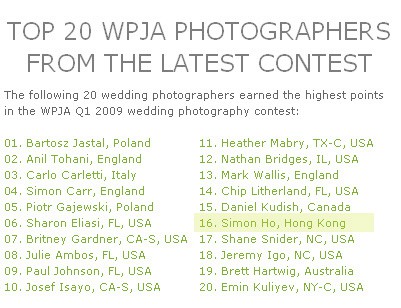 simon.the.photo ranked as one of the top 20 wedding photographers in wpja 09 Q1 contest
July 5, 2009
still remember vivian and roger – the couple who made me cry.
many people asked me why I cried ( after shooting hundreds of wedding in last few years), I would say I was really moved by what roger said to his father at the end of the two-days wedding.
I was so close to them and could hear what he say, and that 's what really made me cry.

take a look at the following slideshow, not only me, everyone cried … ….
[HTML5]
after seeing the sentimental side of the wedding, the day was also full of fun and surprises.
roger prepared a surprise to vivian before the first dance, in roger 's introduction video, he said " Hi everyone, I am roger, 26, I am a teacher …. …. and I don't know dancing …. …" What surprised everyone was that roger prepared a hip hop dance performance for vivian. No one knew about it (OK, Ken and I knew a little bit, we got notified that roger is going to dance, but we didn't know what kind of dance, and we didn't have rehearsal neither).
Starting from knowing nothing about dancing, roger kept learning and practising for 6 months before the wedding day. How good was the dance? take a look at the following video (prepared by ken)
[HTML6]
amazing, isn't it? back to the photos, it was very challenging to capture the dance shots, it was dark (btw, who turned off the hotel spotlight :-|) and  motion was fast. To capture the following shots, I had set up 3 off-camera flashs on the site – two on light stands and one (with a 8 degree grid) on a lighting stick held by Canly. Canly did a great job as she needed to keep aiming the flash to roger while he was moving around and had to adjusting the flash power at the the same time. Here are the resulting photos, I love them so much !!!!
cool !! my fav of the day for roger

the first dance

ceremony: the peninsula hotel Hong Kong, garden suite
reception: Intercontinental Hotel Hong Kong (day 1) & Kowloon Shangri-la (day 2)
make up artist: gracy of JustGracy
video: ken of simon.the.photo
the boys in the morning

vivian – getting ready at home

ready for the ceremony at peninsula – garden suite

the ceremony

roger, you may kiss the bride

a happy moment

let' s have some fun, boys and girls

reception at intercontinental

my fav of the day for vivian

a lovely video prepared by them

what about vivian 's surprise. she prepared a basketball player balloon for roger. Why basketball? you can take a look at their e-session photos to see why

speech by father

watching the same day video edit prepared by ken

let 's celebrate !!!!

congratulations !!!!!