The wedding of Tina & Man Po was wonderful on last Sunday at InterContinental. They 're a perfect couple for every wedding photographer — they 're so sweet whole day in front of the camera and I could take a lot of moment shots for them easily.
We also had "wonderful" weather — in the morning, there was sunshine & everything ran smoothly. After the lunch, we planned to have location shooting at the car park of Ocean Terminal. However, when we 're on our way there, the weather turned bad and a big thunderstorm came so that we had to turn back to hotel finally. (I found out later that we had a "yellow rain" warning signal this afternoon.)
So we had to change our plan and just do the location shooting at the hotel. Even though we only had a very busy hotel lobby for location shooting, they enjoyed the moment a lot and I got some of the best pictures for the whole day. My partner Ken and I 're very excited and we spent over 1.5 hour there.
Before the wedding, Tina & Man Po told me they 'd like me to show a few pictures of the day during the banquet, and finally I had selected 7 pictures from this 1.5 hour shooting, they are all my favorite pictures. In fact, I found it difficult to choose, as there are so many great pictures.
My favorite one. It was raining outside and we had rain drops and moisture on the glass wall. Tina just looked gorgeous!!!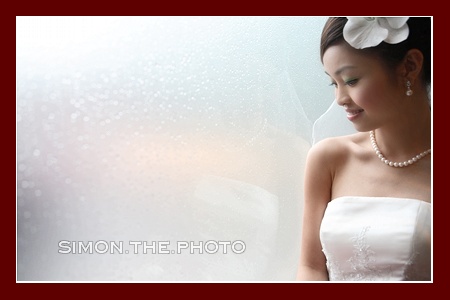 the decoration was almost ready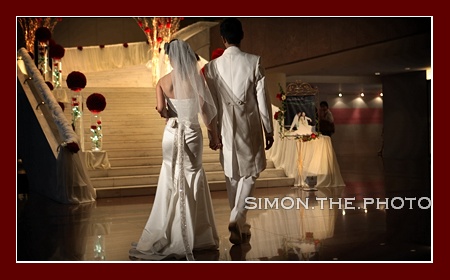 Man Po was helping Tina going down the stair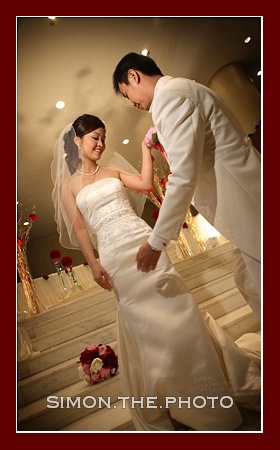 This wonderful backdrop was the glass wall with curtain. I liked the color,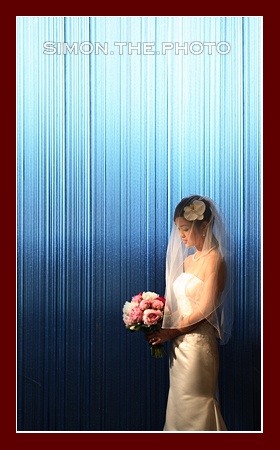 A shot at the piano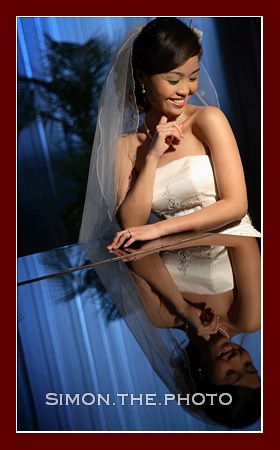 A great picture. Nice expression of Tina, the warm & cold color contrast, the mirror image at the top of piano. everything was perfect at this moment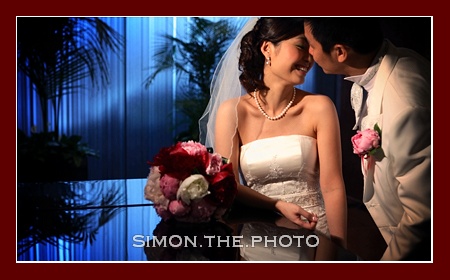 One final shot at the bar