A wedding in snow – Amy & Ricky
May 12, 2006
Happy Birthday to Xandra !!!
May 21, 2006
1 month ago, I submitted several photos to " the Artistic Guild of the Wedding Photojournalist Association" [AG]WPJA April contest, and I got an email today that I won the 5th place in the details category (click here to see the comments from contest judges).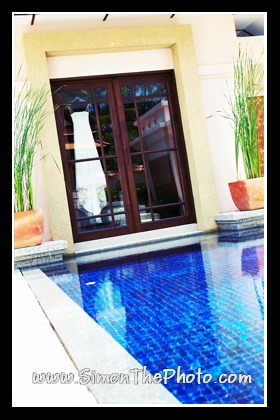 This photo was taken in the wedding of Irene & Stanley on 31 March at the Banyan Tree Phuket, Laguna Resort. After taken several shots of "typical" wedding gown hanging over the window inside the villa, I decided to go outside and found that the blue color of the pool made a very strong contrast and I took the shot from a very low angle.
The Artistic Guild of the Wedding Photojournalist Association [AG]WPJA is a distinct division within the Wedding Photojournalist Association (WPJA). The [AG]WPJA focuses strictly on the artistic and "fine art" aspects of wedding photojournalism. [AG]WPJA members are international wedding photojournalists, who excel both in creating outstanding images through a documentary approach, and in the art of post-production processing of wedding photographs. In a nutshell, [AG]WPJA photographers take great candid pictures, enhance them using the technology available, and deliver museum-quality images from your wedding day.
This award gave me a big encouragement on what I am doing on my style – taking wedding photograph in an artistic approach.