When your client loves your work
June 16, 2006
Wedding under wonderful weather Helen & Alan at Verandah of Repulse Bay
June 19, 2006
Early this year, Xandra and I (with two of our friends – Chloe and Olive, together with Ann and Pierre who are living there) went to Island Reunion & Mauritius for holiday. This was an amazing trip – we had volcano climbing, hiking, swimming, driving … … I shot over 2,000 photos in two weeks, the scenes 're magnificent — we had sun set, sun rise, rainbow on the sea (a really big one) … …. Four months gone, but I am still too busy with photos of my clients and have no time to manage photos of my own. Finally, Xandra can 't wait any more, and ask me to teach her how to do a web slideshow. Today, she completed her 1st slideshow, please click the following link to run the slideshow (prepare to turn on the volume of your computer, she chose a good music from David Tao).
This photo was taken at the top of Volcano. We started to climb at 0300 and reached there at 0530. Just enough time to capture the "moment" before the sun rise. BTW, the white dots are not dust or dead spot on your monitor, they 're stars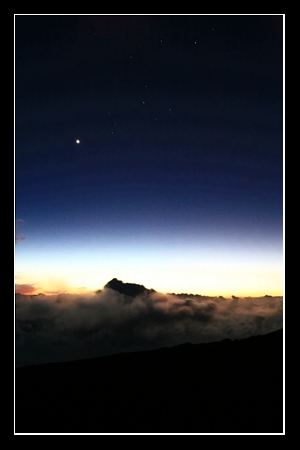 This slideshow requires Macromedia Flash Player ver. 8. After installation, please restart your browser.
Go to next page for part 2 (Volcano Stay)