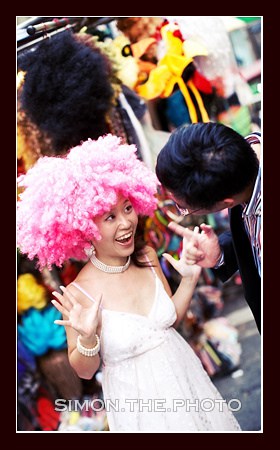 city of life– eSession of karen and benedict
October 3, 2008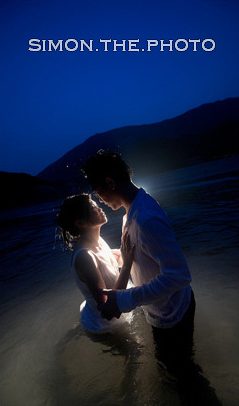 a fan of simon.the.photo-natalie and arthur
October 15, 2008
My another wedding during the mid-autumn festival. As you can see from the photos and video below, both Joyce and Wilson have big families and big group of friends celebrating with them … …. the day was full of laughter and tears.
date: 13 sept 2008
ceremony: Bethanie Chapel
reception: Intercontinental Hotel Hong Kong
makeup artist: Maggie Li
love this moment. Joyce has a big group of cousins, they 're singing a lovely song  (and dancing) to Joyce. You can imagine that Joyce couldn't stop crying  …  …

same day video edit
filming and editing by Ken of Simon.The.Photo
We had a little problem playing the video that night, there was some hang up at the last 30 sec. We believe it 's caused by the bad burning of the DVD media. I talked about it here because, first, I 'd like to thank Joyce and Wilson for their forgiveness of our mistake, second, I don't like to hide my mistake, and just let everyone know, Simon and my team made mistake, we are not perfect, but we 'll learn from it and keep on improving ourselves, trust me !!
[hana-flv-player
video="http://www.simonthephoto.com/customers/08/0913-joyce-wilson/same-day-video.flv"
width="320″
height="240″
description="joyce and wilson same day video edit"
autoplay="false"
loop="false"
autorewind="true"
splashimage="http://farm4.static.flickr.com/3166/2909539223_d9803a59f3_o.jpg"
/]
nice bouquet

wilson getting ready, like the wedding photos of their parents behind

preparation of the games, can you read the eight Chinese characters

no doubt wilson 's enjoying the game very much

waiting for Wilson

a private time of Joyce and Wilson

a big wedding party – 30 bridesmaids and groomsmen in total

Joyce has a very long and beautiful veil, and everyone loves it

Hi, I need some ironing as well.

Wilson … … ready for the ceremony, are you nervous?

Joyce … … ready for the ceremony

adorable – six months old baby – made me think of my daughter at that time

Let 's go

ceremony at the Bethanie Chapel

tiny detail, but lovely moment

Let 's start, shall we!!!!

beautiful veil, isn't it?

congratulations !!! Mr. and Mrs. Fok

love this shot, so romantic

I know, I know … … joyce 's face was blocked, but this is the only one photo I got. It was so surprising that Wilson carried her suddenly and ran towards the stage.

I went to the 2nd floor to take this shot while they 're having the formals

beautiful light, beautiful light !!!!

They mainly used lighting as the decoration of the reception venue, love this concept, beautiful, unique and environmental friendly

the beautiful light pattern of the stage was changed from time to time

nice live music

KISS on stage

gift to parents

the wedding party prepared a very funny video for the newly wed

that made everyone laugh !!!!