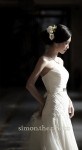 Remember I mentioned before that there is no perfect wedding but surprises.
enjoyed a lot to be the wedding photographer of ron and albert. such a nice and happy couple, no matter what happened … …
Just 5 min before the wedding ceremony to be started, they suddenly found that they left the wedding rings in hotel, and no way they could manage to get it back on time … ….
At that time, I was really worrying myself and thought they 're going to be very very upset and might start to blame others. Didn't dare to say anything but keep silence (BTW, should I keep on shooting photos if they start arguing, look very upset … … wedding photojournalism ??? ) To my surprise, just within 1 min, they smiled again and forgot about it completely, looked like nothing happened. If I don't tell you this here, you [......]
Continue reading … … wedding of ron and albert